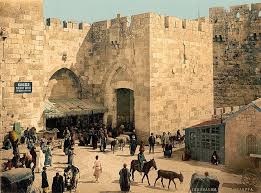 The Messiah of the Tanakh.
המשיח של התנ"ך
This website is for the Jewish People, as a witness of the Messiah. These verses are taken from the Tanakh to give the reader the pure message of the King Messiah as the prophets received it. By direct access to the Word of God, we partake of the true Unleavened Bread of Heaven, the Word of God without the leaven of man's dogma. We must allow no man, no matter how great, to think for us. Allow the Word to speak to you as you consider the following verses from the Tanakh with fresh eyes.
אתר זה נועד לעם היהודי, כעד למשיח. פסוקים אלה נלקחים מתוך התנ"ך לתת לקורא את המסר הטהור של משיח המלך כמו הנביאים קיבל את זה. על ידי גישה ישירה אל דבר האלוהים, אנו לוקחים את לחם המצות האמיתי של השמים, את דבר אלוהים ללא החמץ של הדוגמה של האדם. אנחנו חייבים לאפשר לאיש, לא משנה כמה גדול, לחשוב בשבילנו. אפשר מילה לדבר איתך כפי שאתה מחשיב את הפסוקים הבאים מן התנ"ך עם עיניים טריות

Proverbs 30:4
Who has ascended up into heaven, or descended? who has gathered the wind in his fists? who has bound the waters in a garment? who hath established all the ends of the earth? what is his name, and what is his son's name, for you shall know [it].

משלי מ׳ד
מִ֤י עָלָֽה־שָׁמַ֨יִם ׀ וַיֵּרַ֡ד מִ֤י אָֽסַף־ר֨וּחַ ׀ בְּחָפְנָ֡יו מִ֤י צָֽרַר־מַ֨יִם ׀ בַּשִּׂמְלָ֗ה מִ֭י הֵקִ֣ים כָּל־אַפְסֵי־אָ֑רֶץ מַה־שְּׁמֹ֥ו וּמַֽה־שֶּׁם־בְּ֝נֹ֗ו כִּ֣י תֵדָֽע׃

Deuteronomy 18:18-19
I shall raise up for them a Prophet like you out of the midst of their brothers. And I shall put My Words in His mouth, and He shall speak to them all that I command Him. 'And it shall be, the man who does not listen to My Words which He speaks in My Name, I require it of him.

דברים יח׳יח–יט
נָבִ֨יא אָקִ֥ים לָהֶ֛ם מִקֶּ֥רֶב אֲחֵיהֶ֖ם כָּמֹ֑וךָ וְנָתַתִּ֤י דְבָרַי֙ בְּפִ֔יו וְדִבֶּ֣ר אֲלֵיהֶ֔ם אֵ֖ת כָּל־אֲשֶׁ֥ר אֲצַוֶּֽנּוּ׃ וְהָיָ֗ה הָאִישׁ֙ אֲשֶׁ֤ר לֹֽא־יִשְׁמַע֙
אֶל־דְּבָרַ֔י אֲשֶׁ֥ר יְדַבֵּ֖ר בִּשְׁמִ֑י אָנֹכִ֖י אֶדְרֹ֥שׁ מֵעִמֹּֽו׃

"And there arose not a prophet since in Israel like unto Moses, whom Yehovah knew face to face."

דברים מד׳י
וְלֹֽא־קָ֨ם נָבִ֥יא עֹ֛וד בְּיִשְׂרָאֵ֖ל כְּמֹשֶׁ֑ה אֲשֶׁר֙ יְדָעֹ֣ו יְהוָ֔ה פָּנִ֖ים אֶל־פָּנִֽים׃


Daniel 7:13-14
"I was looking in the night visions and saw One like the Son of Man coming with the clouds of the heavens! And He came up to the Ancient of Days, and they brought Him near before Him."
"And to Him was given rulership and preciousness and a reign, that all peoples, nations, and languages should serve Him. His rule is an everlasting rule which shall not pass away, and His reign that which shall not be destroyed."
דניאל ז׳יג–יד
חָזֵ֤ה הֲוֵית֙ בְּחֶזְוֵ֣י לֵֽילְיָ֔א וַאֲרוּ֙ עִם־עֲנָנֵ֣י שְׁמַיָּ֔א כְּבַ֥ר אֱנָ֖שׁ אָתֵ֣ה הֲוָ֑ה וְעַד־עַתִּ֤יק יֹֽומַיָּא֙ מְטָ֔ה וּקְדָמֹ֖והִי הַקְרְבֽוּהִי׃
וְלֵ֨הּ יְהִ֤יב שָׁלְטָן֙ וִיקָ֣ר וּמַלְכ֔וּ וְכֹ֣ל עַֽמְמַיָּ֗א אֻמַיָּ֛א וְלִשָּׁנַיָּ֖א לֵ֣הּ יִפְלְח֑וּן שָׁלְטָנֵ֞הּ שָׁלְטָ֤ן עָלַם֙ דִּֽי־לָ֣א יֶעְדֵּ֔ה וּמַלְכוּתֵ֖הּ דִּי־לָ֥א תִתְחַבַּֽל׃
Micah 5:2-3
"They shall smite the judge of Israel with a rod upon the cheek. And you, Bethlehem Ephratah, little among the thousands of Judah. Out of you shall he come forth unto me that is to be ruler in Israel; whose goings forth have been from of old, from everlasting.
Therefore will he give them up, until the time that she which gives birth has brought forth: then the remnant of his brothers shall return unto the children of Israel.
And he shall stand and feed in the strength of Yehovah, in the majesty of the name of Yehovah his God; and they shall abide: for now shall he be great unto the ends of the earth."
מיכה ה.ב

וְאַתָּ֞ה בֵּֽית־לֶ֣חֶם אֶפְרָ֗תָה צָעִיר֙ לִֽהְיֹות֙ בְּאַלְפֵ֣י יְהוּדָ֔ה מִמְּךָ֙ לִ֣י יֵצֵ֔א לִֽהְיֹ֥ות מֹושֵׁ֖ל בְּיִשְׂרָאֵ֑ל וּמֹוצָאֹתָ֥יו מִקֶּ֖דֶם מִימֵ֥י עֹולָֽם׃

לָכֵ֣ן יִתְּנֵ֔ם עַד־עֵ֥ת יֹולֵדָ֖ה יָלָ֑דָה וְיֶ֣תֶר אֶחָ֔יו יְשׁוּב֖וּן עַל־בְּנֵ֥י יִשְׂרָאֵֽל׃
וְעָמַ֗ד וְרָעָה֙ בְּעֹ֣ז יְהוָ֔ה בִּגְאֹ֕ון שֵׁ֖ם יְהוָ֣ה אֱלֹהָ֑יו וְיָשָׁ֕בוּ כִּֽי־עַתָּ֥ה יִגְדַּ֖ל עַד־אַפְסֵי־אָֽרֶץ

Psalm 118:22-24
The stone rejected by the builders has become the chief corner
With YHVH this has been, and it's incredibly miraculous in our eyes.
This is the day YHVH has made. Rejoice and be glad in it.
תהילים ציח׳ כב–כד
אֶ֭בֶן מָאֲס֣וּ הַבֹּונִ֑ים הָ֝יְתָ֗ה לְרֹ֣אשׁ פִּנָּֽה׃
מֵאֵ֣ת יְ֭הוָה הָ֣יְתָה זֹּ֑את הִ֖יא נִפְלָ֣את בְּעֵינֵֽינוּ׃
זֶה־הַ֭יֹּום עָשָׂ֣ה יְהוָ֑ה נָגִ֖ילָה וְנִשְׂמְחָ֣ה בֹֽו׃
Isaiah 9:6-7
"For unto us a child is born, unto us a son is given: and the government shall be upon his shoulder: and his name shall be called Wonderful, Counseller, The mighty God, The everlasting Father, The Prince of Peace."

ישעיהו ט.ו-ז

כִּי־יֶ֣לֶד יֻלַּד־לָ֗נוּ בֵּ֚ן נִתַּן־לָ֔נוּ וַתְּהִ֥י הַמִּשְׂרָ֖ה עַל־שִׁכְמֹ֑ו וַיִּקְרָ֨א שְׁמֹ֜ו פֶּ֠לֶא יֹועֵץ֙ אֵ֣ל גִּבֹּ֔ור אֲבִיעַ֖ד שַׂר־שָׁלֹֽום׃


Zechariah 9:9-11
"Rejoice greatly, O daughter of Tsiyon! Shout, O daughter of Yerushalayim! See, your Sovereign is coming to you, He is righteous and endowed with deliverance, humble and riding on a donkey, a colt, the foal of a donkey.
"And I shall cut off the chariot from Ephrayim and the horse from Yerushalayim. And the battle bow shall be cut off. And He shall speak peace to the nations, and His rule is from sea to sea, and from the River to the ends of the earth.
"Also you, because of the blood of your covenant, I shall send your prisoners out of the pit where this is no water."
זכריה ט׳ט–יא
גִּילִ֨י מְאֹ֜ד בַּת־צִיֹּ֗ון הָרִ֙יעִי֙ בַּ֣ת יְרוּשָׁלִַ֔ם הִנֵּ֤ה מַלְכֵּךְ֙ יָ֣בֹוא לָ֔ךְ צַדִּ֥יק וְנֹושָׁ֖ע ה֑וּא עָנִי֙ וְרֹכֵ֣ב עַל־חֲמֹ֔ור וְעַל־עַ֖יִר בֶּן־אֲתֹנֹֽות׃

וְהִכְרַתִּי־רֶ֣כֶב מֵאֶפְרַ֗יִם וְסוּס֙ מִיר֣וּשָׁלִַ֔ם וְנִכְרְתָה֙ קֶ֣שֶׁת מִלְחָמָ֔ה וְדִבֶּ֥ר שָׁלֹ֖ום לַגֹּויִ֑ם וּמָשְׁלֹו֙ מִיָּ֣ם עַד־יָ֔ם וּמִנָּהָ֖ר עַד־אַפְסֵי־אָֽרֶץ׃
גַּם־אַ֣תְּ בְּדַם־בְּרִיתֵ֗ךְ שִׁלַּ֤חְתִּי אֲסִירַ֙יִךְ֙ מִבֹּ֔ור אֵ֥ין מַ֖יִם בֹּֽו׃
Zachariah 12:10
"And I will pour upon the house of David, and upon the inhabitants of Jerusalem, the spirit of grace and of supplications: and they shall look upon me whom they have pierced, and they shall mourn for him, as one mourns for his only son, and shall be in bitterness for him, as one that is in bitterness for his firstborn."

זכריה יב.י

וְשָׁפַכְתִּי֩ עַל־בֵּ֨ית דָּוִ֜יד וְעַ֣ל ׀ יֹושֵׁ֣ב יְרוּשָׁלִַ֗ם ר֤וּחַ חֵן֙ וְתַ֣חֲנוּנִ֔ים וְהִבִּ֥יטוּ אֵלַ֖י אֵ֣ת אֲשֶׁר־דָּקָ֑רוּ וְסָפְד֣וּ עָלָ֗יו כְּמִסְפֵּד֙ עַל־הַיָּחִ֔יד וְהָמֵ֥ר עָלָ֖יו כְּהָמֵ֥ר עַֽל־הַבְּכֹֽור׃

Zachariah 13:7
Awake, O sword, against my shepherd, and against the man that is my fellow, saith Yehovah of hosts: smite the shepherd, and the sheep shall be scattered: and I will turn mine hand upon the little ones.

זכריה יג.ז

חֶ֗רֶב עוּרִ֤י עַל־רֹעִי֙ וְעַל־גֶּ֣בֶר עֲמִיתִ֔י נְאֻ֖ם יְהוָ֣ה צְבָאֹ֑ות הַ֤ךְ אֶת־הָֽרֹעֶה֙ וּתְפוּצֶ֣יןָ הַצֹּ֔אן וַהֲשִׁבֹתִ֥י יָדִ֖י עַל־הַצֹּעֲרִֽים׃

Daniel 9:25-26
Know therefore and understand, that from the going forth of the commandment to restore and to build Jerusalem unto the Messiah the Prince shall be seven weeks, and threescore and two weeks: the street shall be built again, and the wall, even in troublous times. And after threescore and two sevens [of years after the completion of the 2nd Temple] shall Messiah be cut off, but not for himself: and the people of the prince that shall come shall destroy the city and the sanctuary; and the end thereof shall be with a flood, and unto the end of the war desolations are determined.

דניאל ט.כה-כו
וְתֵדַ֨ע וְתַשְׂכֵּ֜ל מִן־מֹצָ֣א דָבָ֗ר לְהָשִׁיב֙ וְלִבְנֹ֤ות יְרֽוּשָׁלִַ֙ם֙ עַד־מָשִׁ֣יחַ נָגִ֔יד שָׁבֻעִ֖ים שִׁבְעָ֑ה וְשָׁבֻעִ֞ים שִׁשִּׁ֣ים וּשְׁנַ֗יִם תָּשׁוּב֙ וְנִבְנְתָה֙ רְחֹ֣וב וְחָר֔וּץ וּבְצֹ֖וק הָעִתִּֽים׃

וְאַחֲרֵ֤י הַשָּׁבֻעִים֙ שִׁשִּׁ֣ים וּשְׁנַ֔יִם[שנים לאחר סיום בית המקדש השני] יִכָּרֵ֥ת מָשִׁ֖יחַ וְאֵ֣ין לֹ֑ו וְהָעִ֨יר וְהַקֹּ֜דֶשׁ יַ֠שְׁחִית עַ֣ם נָגִ֤יד הַבָּא֙ וְקִצֹּ֣ו בַשֶּׁ֔טֶף וְעַד֙ קֵ֣ץ מִלְחָמָ֔ה נֶחֱרֶ֖צֶת
שֹׁמֵמֹֽות׃

Ezra 7:12-18 [The beginning of the previous prophecy starts here in 457 B.C.E. Messiah is cut off 483 years later, 26-27 A.D.]
Artaxerxes, king of kings, unto Ezra the priest, a scribe of the law of the God of heaven, perfect peace, and at such a time. I make a decree, that all they of the people of Israel, and of his priests and Levites, in my realm, which are minded of their own freewill to go up to Jerusalem, go with thee. For asmuch as thou art sent of the king, and of his seven counsellers, to inquire concerning Judah and Jerusalem, according to the law of thy God which is in thine hand; And to carry the silver and gold, which the king and his counsellers have freely offered unto the God of Israel, whose habitation is in Jerusalem, And all the silver and gold that thou canst find in all thFe province of Babylon, with the freewill offering of the people, and of the priests, offering willingly for the house of their God which is in Jerusalem. That you mayest buy speedily with this money bullocks, rams, lambs, with their meat offerings and their drink offerings, and offer them upon the altar of the house of your God which is in Jerusalem. And whatsoever shall seem good to thee, and to thy brethren, to do with the rest of the silver and the gold, that do after the will of your God."
עזרא ז׳ח–יח

תחילת הנבואה הקודמת מתחילה כאן בשנת 457 לפנה"ס המשיח מנותק 483 שנים מאוחר יותר בשנת 26-27.]
וַיָּבֹ֥א יְרוּשָׁלִַ֖ם בַּחֹ֣דֶשׁ הַחֲמִישִׁ֑י הִ֛יא שְׁנַ֥ת הַשְּׁבִיעִ֖ית לַמֶּֽלֶךְ׃

כִּ֗י בְּאֶחָד֙ לַחֹ֣דֶשׁ הָרִאשֹׁ֔ון ה֣וּא יְסֻ֔ד הַֽמַּעֲלָ֖ה מִבָּבֶ֑ל וּבְאֶחָ֞ד לַחֹ֣דֶשׁ הַחֲמִישִׁ֗י בָּ֚א אֶל־יְר֣וּשָׁלִַ֔ם כְּיַד־אֱלֹהָ֖יו הַטֹּובָ֥ה עָלָֽיו׃

כִּ֤י עֶזְרָא֙ הֵכִ֣ין לְבָבֹ֔ו לִדְרֹ֛ושׁ אֶת־תֹּורַ֥ת יְהוָ֖ה וְלַעֲשֹׂ֑ת וּלְלַמֵּ֥ד בְּיִשְׂרָאֵ֖ל חֹ֥ק וּמִשְׁפָּֽט׃ ס

וְזֶ֣ה ׀ פַּרְשֶׁ֣גֶן הַֽנִּשְׁתְּוָ֗ן אֲשֶׁ֤ר נָתַן֙ הַמֶּ֣לֶךְ אַרְתַּחְשַׁ֔סְתְּא לְעֶזְרָ֥א הַכֹּהֵ֖ן הַסֹּפֵ֑ר סֹפֵ֞ר דִּבְרֵ֧י מִצְוֹת־יְהוָ֛ה וְחֻקָּ֖יו עַל־יִשְׂרָאֵֽל׃ פ

אַ֨רְתַּחְשַׁ֔סְתְּא מֶ֖לֶךְ מַלְכַיָּ֑א לְעֶזְרָ֣א כָ֠הֲנָא סָפַ֨ר דָּתָ֜א דִּֽי־אֱלָ֧הּ שְׁמַיָּ֛א גְּמִ֖יר וּכְעֶֽנֶת׃

מִנִּי֮ שִׂ֣ים טְעֵם֒ דִּ֣י כָל־מִתְנַדַּ֣ב בְּמַלְכוּתִי֩ מִן־עַמָּ֨ה יִשְׂרָאֵ֜ל וְכָהֲנֹ֣והִי וְלֵוָיֵ֗א לִמְהָ֧ךְ לִֽירוּשְׁלֶ֛ם עִמָּ֖ךְ יְהָֽךְ׃

כָּל־קֳבֵ֗ל דִּי֩ מִן־קֳדָ֨ם מַלְכָּ֜א וְשִׁבְעַ֤ת יָעֲטֹ֙הִי֙ שְׁלִ֔יחַ לְבַקָּרָ֥א עַל־יְה֖וּד וְלִֽירוּשְׁלֶ֑ם בְּדָ֥ת אֱלָהָ֖ךְ דִּ֥י בִידָֽךְ׃

וּלְהֵיבָלָ֖ה כְּסַ֣ף וּדְהַ֑ב דִּֽי־מַלְכָּ֣א וְיָעֲטֹ֗והִי הִתְנַדַּ֙בוּ֙ לֶאֱלָ֣הּ יִשְׂרָאֵ֔ל דִּ֥י בִֽירוּשְׁלֶ֖ם מִשְׁכְּנֵֽהּ׃

וְכֹל֙ כְּסַ֣ף וּדְהַ֔ב דִּ֣י תְהַשְׁכַּ֔ח בְּכֹ֖ל מְדִינַ֣ת בָּבֶ֑ל עִם֩ הִתְנַדָּב֨וּת עַמָּ֤א וְכָֽהֲנַיָּא֙ מִֽתְנַדְּבִ֔ין לְבֵ֥ית אֱלָהֲהֹ֖ם דִּ֥י בִירוּשְׁלֶֽם׃

כָּל־קֳבֵ֣ל דְּנָה֩ אָסְפַּ֨רְנָא תִקְנֵ֜א בְּכַסְפָּ֣א דְנָ֗ה תֹּורִ֤ין ׀ דִּכְרִין֙ אִמְּרִ֔ין וּמִנְחָתְהֹ֖ון וְנִסְכֵּיהֹ֑ון וּתְקָרֵ֣ב הִמֹּ֔ו עַֽל־מַדְבְּחָ֔ה דִּ֛י בֵּ֥ית אֱלָהֲכֹ֖ם דִּ֥י בִירוּשְׁלֶֽם

וּמָ֣ה דִי֩ [עֲלַיִךְ כ] (עֲלָ֨ךְ ק) וְעַל־ [אֶחַיִךְ כ] (אֶחָ֜ךְ ק) יִיטַ֗ב בִּשְׁאָ֛ר כַּסְפָּ֥א וְדַהֲבָ֖ה לְמֶעְבַּ֑ד כִּרְע֥וּת אֱלָהֲכֹ֖ם תַּעַבְדֽוּן׃
Psalm 22:16-31
For dogs have compassed me: the assembly of the wicked have inclosed me: they pierced my hands and my feet.
I may tell all my bones: they look and stare upon me.
They part my garments among them, and cast lots upon my vesture.
But be not thou far from me, O Yehovah: O my strength, haste thee to help me.
Deliver my soul from the sword; my darling from the power of the dog.
Save me from the lion's mouth: for thou hast heard me from the horns of the unicorns.
I will declare thy name unto my brethren: in the midst of the congregation will I praise thee.
Ye that fear Yehovah, praise him; all ye the seed of Jacob, glorify him; and fear him, all ye the seed of Israel.
For he hath not despised nor abhorred the affliction of the afflicted; neither hath he hid his face from him; but when he cried unto him, he heard. My praise shall be of thee in the great congregation: I will pay my vows before them that fear him. The meek shall eat and be satisfied: they shall praise Yehovah that seek him: your heart shall live for ever. All the ends of the world shall remember and turn unto Yehovah: and all the kindreds of the nations shall worship before thee. For the kingdom is Yehovah's: and he is the governor among the nations. All
hey that be fat upon earth shall eat and worship: all they that go down to the dust shall bow before him: and none can keep alive his own soul. A seed shall serve him; it shall be accounted to the Lord for a generation.
They shall come, and shall declare his righteousness unto a people that shall be born, that he hath done it.
תהילים כב׳ יו– לא
כִּ֥י סְבָב֗וּנִי כְּלָ֫בִ֥ים עֲדַ֣ת מְ֭רֵעִים הִקִּיפ֑וּנִי כָּ֝אֲרִ֗י יָדַ֥י וְרַגְלָֽי׃
אֲסַפֵּ֥ר כָּל־עַצְמֹותָ֑י הֵ֥מָּה יַ֝בִּ֗יטוּ יִרְאוּ־בִֽי׃
יְחַלְּק֣וּ בְגָדַ֣י לָהֶ֑ם וְעַל־לְ֝בוּשִׁ֗י יַפִּ֥ילוּ גֹורָֽל׃
וְאַתָּ֣ה יְ֭הוָה אַל־תִּרְחָ֑ק אֱ֝יָלוּתִ֗י לְעֶזְרָ֥תִי חֽוּשָׁה׃
הַצִּ֣ילָה מֵחֶ֣רֶב נַפְשִׁ֑י מִיַּד־כֶּ֝֗לֶב יְחִידָתִֽי׃
הֹ֭ושִׁיעֵנִי מִפִּ֣י אַרְיֵ֑ה וּמִקַּרְנֵ֖י רֵמִ֣ים עֲנִיתָֽנִי׃
אֲסַפְּרָ֣ה שִׁמְךָ֣ לְאֶחָ֑י בְּתֹ֖וךְ קָהָ֣ל אֲהַלְלֶֽךָּ׃
יִרְאֵ֤י יְהוָ֨ה ׀ הַֽלְל֗וּהוּ כָּל־זֶ֣רַע יַעֲקֹ֣ב כַּבְּד֑וּהוּ וְג֥וּרוּ מִ֝מֶּ֗נּוּ כָּל־זֶ֥רַע יִשְׂרָאֵֽל׃
כִּ֤י לֹֽא־בָזָ֨ה וְלֹ֪א שִׁקַּ֡ץ עֱנ֬וּת עָנִ֗י וְלֹא־הִסְתִּ֣יר פָּנָ֣יו מִמֶּ֑נּוּ וּֽבְשַׁוְּעֹ֖ו אֵלָ֣יו שָׁמֵֽעַ׃
מֵ֥אִתְּךָ֗ תְֽהִלָּ֫תִ֥י בְּקָהָ֥ל רָ֑ב נְדָרַ֥י אֲ֝שַׁלֵּ֗ם נֶ֣גֶד יְרֵאָֽיו׃
יֹאכְל֬וּ עֲנָוִ֨ים ׀ וְיִשְׂבָּ֗עוּ יְהַֽלְל֣וּ יְ֭הוָה דֹּ֣רְשָׁ֑יו יְחִ֖י לְבַבְכֶ֣ם לָעַֽד׃
יִזְכְּר֤וּ ׀ וְיָשֻׁ֣בוּ אֶל־יְ֭הוָה כָּל־אַפְסֵי־אָ֑רֶץ וְיִֽשְׁתַּחֲו֥וּ לְ֝פָנֶ֗יךָ כָּֽל־מִשְׁפְּחֹ֥ות גֹּויִֽם׃
כִּ֣י לַ֭יהוָה הַמְּלוּכָ֑ה וּ֝מֹשֵׁ֗ל בַּגֹּויִֽם׃
אָכְל֬וּ וַיִּֽשְׁתַּחֲוּ֨וּ ׀ כָּֽל־דִּשְׁנֵי־אֶ֗רֶץ לְפָנָ֣יו יִ֭כְרְעוּ כָּל־יֹורְדֵ֣י עָפָ֑ר וְ֝נַפְשֹׁ֗ו לֹ֣א חִיָּֽה׃
זֶ֥רַע יַֽעַבְדֶ֑נּוּ יְסֻפַּ֖ר לַֽאדֹנָ֣י לַדֹּֽור׃
יָ֭בֹאוּ וְיַגִּ֣ידוּ צִדְקָתֹ֑ו לְעַ֥ם נֹ֝ולָ֗ד כִּ֣י עָשָֽׂה׃
Isaiah 53
Who has believed our report? And to whom was the arm of יהוה revealed?
For He grew up before Him as a tender plant, and as a root out of dry ground. He has no form or splendour that we should look upon Him, nor appearance that we should desire Him –
despised and rejected by men, a man of pains and knowing sickness. And as one from whom the face is hidden, being despised, and we did not consider Him.
Truly, He has borne our sicknesses and carried our pains. Yet we reckoned Him stricken, smitten by Elohim, and afflicted.
But He was pierced for our transgressions, He was crushed for our crookednesses. The chastisement for our peace was upon Him, and by His stripes we are healed.
We all, like sheep, went astray, each one of us has turned to his own way. And יהוה has laid on Him the crookedness of us all.
He was oppressed and He was afflicted, but He did not open His mouth. He was led as a lamb to the slaughter, and as a sheep before its shearers is silent, but He did not open His mouth.
He was taken from prison and from judgment. And as for His generation, who considered that He shall be cut off from the land of the living? For the transgression of My people He was stricken.
And He was appointed a grave with the wrong, and with the rich at His death, because He had done no violence, nor was deceit in His mouth
But יהוה was pleased to crush Him, He laid sickness on Him, that when He made Himself an offering for guilt, He would see a seed, He would prolong His days and the pleasure of יהוה prosper in His hand.
He would see the result of the suffering of His life and be satisfied. Through His knowledge My righteous Servant makes many righteous, and He bears their crookednesses.
Therefore I give Him a portion among the great, and He divides the spoil with the strong, because He poured out His being unto death, and He was counted with the transgressors, and He bore the sin of many, and made intercession for the transgressors.
ישעיהו נג
מִ֥י הֶאֱמִ֖ין לִשְׁמֻעָתֵ֑נוּ וּזְרֹ֥ועַ יְהוָ֖ה עַל־מִ֥י נִגְלָֽתָה׃
וַיַּ֨עַל כַּיֹּונֵ֜ק לְפָנָ֗יו וְכַשֹּׁ֙רֶשׁ֙ מֵאֶ֣רֶץ צִיָּ֔ה לֹא־תֹ֥אַר לֹ֖ו וְלֹ֣א הָדָ֑ר וְנִרְאֵ֥הוּ וְלֹֽא־מַרְאֶ֖ה וְנֶחְמְדֵֽהוּ׃
נִבְזֶה֙ וַחֲדַ֣ל אִישִׁ֔ים אִ֥ישׁ מַכְאֹבֹ֖ות וִיד֣וּעַ חֹ֑לִי וּכְמַסְתֵּ֤ר פָּנִים֙ מִמֶּ֔נּוּ נִבְזֶ֖ה וְלֹ֥א חֲשַׁבְנֻֽהוּ׃
אָכֵ֤ן חֳלָיֵ֙נוּ֙ ה֣וּא נָשָׂ֔א וּמַכְאֹבֵ֖ינוּ סְבָלָ֑ם וַאֲנַ֣חְנוּ חֲשַׁבְנֻ֔הוּ נָג֛וּעַ מֻכֵּ֥ה אֱלֹהִ֖ים וּמְעֻנֶּֽה׃
וְהוּא֙ מְחֹלָ֣ל מִפְּשָׁעֵ֔נוּ מְדֻכָּ֖א מֵעֲוֹנֹתֵ֑ינוּ מוּסַ֤ר שְׁלֹומֵ֙נוּ֙ עָלָ֔יו וּבַחֲבֻרָתֹ֖ו נִרְפָּא־לָֽנוּ׃
כֻּלָּ֙נוּ֙ כַּצֹּ֣אן תָּעִ֔ינוּ אִ֥ישׁ לְדַרְכֹּ֖ו פָּנִ֑ינוּ וַֽיהוָה֙ הִפְגִּ֣יעַ בֹּ֔ו אֵ֖ת עֲוֹ֥ן כֻּלָּֽנוּ׃
נִגַּ֨שׂ וְה֣וּא נַעֲנֶה֮ וְלֹ֣א יִפְתַּח־פִּיו֒ כַּשֶּׂה֙ לַטֶּ֣בַח יוּבָ֔ל וּכְרָחֵ֕ל לִפְנֵ֥י גֹזְזֶ֖יהָ נֶאֱלָ֑מָה וְלֹ֥א יִפְתַּ֖ח פִּֽיו׃
מֵעֹ֤צֶר וּמִמִּשְׁפָּט֙ לֻקָּ֔ח וְאֶת־דֹּורֹ֖ו מִ֣י יְשֹׂוחֵ֑חַ כִּ֤י נִגְזַר֙ מֵאֶ֣רֶץ חַיִּ֔ים מִפֶּ֥שַׁע עַמִּ֖י נֶ֥גַע לָֽמֹו׃
וַיִּתֵּ֤ן אֶת־רְשָׁעִים֙ קִבְרֹ֔ו וְאֶת־עָשִׁ֖יר בְּמֹתָ֑יו עַ֚ל לֹא־חָמָ֣ס עָשָׂ֔ה וְלֹ֥א מִרְמָ֖ה בְּפִֽיו׃
וַיהוָ֞ה חָפֵ֤ץ דַּכְּאֹו֙ הֶֽחֱלִ֔י אִם־תָּשִׂ֤ים אָשָׁם֙ נַפְשֹׁ֔ו יִרְאֶ֥ה זֶ֖רַע יַאֲרִ֣יךְ יָמִ֑ים וְחֵ֥פֶץ יְהוָ֖ה בְּיָדֹ֥ו יִצְלָֽח׃
מֵעֲמַ֤ל נַפְשֹׁו֙ יִרְאֶ֣ה יִשְׂבָּ֔ע בְּדַעְתֹּ֗ו יַצְדִּ֥יק צַדִּ֛יק עַבְדִּ֖י לָֽרַבִּ֑ים וַעֲוֹנֹתָ֖ם ה֥וּא יִסְבֹּֽל׃
לָכֵ֞ן אֲחַלֶּק־לֹ֣ו בָרַבִּ֗ים וְאֶת־עֲצוּמִים֮ יְחַלֵּ֣ק שָׁלָל֒ תַּ֗חַת אֲשֶׁ֨ר הֶעֱרָ֤ה לַמָּ֙וֶת֙ נַפְשֹׁ֔ו וְאֶת־פֹּשְׁעִ֖ים נִמְנָ֑ה וְהוּא֙ חֵטְא־רַבִּ֣ים נָשָׂ֔א וְלַפֹּשְׁעִ֖ים יַפְגִּֽיעַ׃ ס
Psalm 2
Why do the gentiles rage, And the peoples meditate emptiness?

The sovereigns of the earth take their stand, And the rulers take counsel together, Against יהוה and against His Messiah, and say,

"Let us tear apart Their bonds, And throw away Their ropes from us."

He who is sitting in the heavens laughs, יהוה mocks at them.

Then He speaks to them in His wrath, And troubles them in His rage, saying,

"But I, I have set My Sovereign on Tsiyon, My set-apart mountain."

"I inscribe for a law: יהוה has said to Me, 'You are My Son, Today I have brought You forth.

'Ask of Me, and I make the gentiles Your inheritance, And the ends of the earth Your possession.

'Break them with a rod of iron, Dash them to pieces like a potter's vessel.' "

And now, be wise, O sovereigns; Be instructed, you rulers of the earth.

Serve יהוה with fear, And rejoice with trembling.
Kiss the Son, lest He be enraged, And you perish in the way, For soon His wrath is to be kindled. Blessed are all those taking refuge in Him.
תהילים ב
א למה רגשו גוים ולאמים יהגו-ריק
ב יתיצבו מלכי-ארץ-- ורוזנים נוסדו-יחד על-יהוה ועל-משיחו
ג ננתקה את-מוסרותימו ונשליכה ממנו עבתימו
ד יושב בשמים ישחק אדני ילעג-למו
ה אז ידבר אלימו באפו ובחרונו יבהלמו
ו ואני נסכתי מלכי על-ציון הר-קדשי
ז אספרה אל-חק יהוה אמר אלי בני אתה--אני היום ילדתיך
ח שאל ממני--ואתנה גוים נחלתך ואחזתך אפסי-ארץ
ט תרעם בשבט ברזל ככלי יוצר תנפצם
י ועתה מלכים השכילו הוסרו שפטי ארץ
יא עבדו את-יהוה ביראה וגילו ברעדה
יב נשקו-בר פן-יאנף ותאבדו דרך-- כי-יבער כמעט אפו אשרי כל-חוסי בו
Tradition and legend - misunderstandings
מסורת ואגדה - אי הבנות

We have been taught that someone called Yeshu Ha Notsri was an enemy of the Jewish people, a sorcerer and an idolator.


לימדו אותנו שמישהו בשם יש''ו היה אויב העם היהודי, מכשף ועובד אלילים

We have been taught that this Yeshu the Notsri was Yehoshua (Jesus) from the town of Nazereth, who the Christians call Messiah.

לימדו אותנו כי ישו הנוצרי הוא יהושע מעיר נצרת שהנוצרים מכנים את המשיח
But we have been taught a lie. Yeshu cannot be Yehoshua of the New Testament, because they come from different time periods. The proof is in the Talmud, Sotah 47:
אבל לימדו אותנו שקר. ישוע לא יכול להיות יהושע של הברית החדשה, כי הם באים מתקופות זמן שונות. ההוכחה היא בתלמוד, סוטה מז

Sotah 47 סוטה מז

This Yeshu is from 88-76 B.C.E. - the time time of King Yannai one hundred year before Yehoshua the Messiah's death

זה יש''ו בזמן של המלך ינאי מאה שנה לפני מותו של יהושע המשיח


יהושע בן פרחיה מאי היא כדהוה קא קטיל ינאי מלכא לרבנן שמעון בן שטח אטמינהו אחתיה ר' יהושע בן פרחיה אזל ערק לאלכסנדריא של מצרים כי הוה שלמא שלח ליה שמעון בן שטח מני ירושלים עיר הקודש לך אלכסנדריא של מצרים אחותי בעלי שרוי בתוכך ואני יושבת שוממה אמר ש"מ הוה ליה שלמא
The Gemara returns to the incident in which Yehoshua ben Peraḥya turned away Yeshu the Notsri: What is this incident? When King Yannai was killing the Sages, Shimon ben Shataḥ was hidden by his sister, Yannai's wife, while Rabbi Yehoshua ben Peraḥya went and fled to Alexandria of Egypt. When peace was made between Yannai and the Sages, Shimon ben Shataḥ sent him the following letter: From myself, Jerusalem the holy city, to you, Alexandria of Egypt. My sister, my husband dwells within you, and I am sitting desolate. Rabbi Yehoshua ben Peraḥya said: I can learn from it that there is peace, and I can return.
כי אתא אקלע לההוא אושפיזא קם קמייהו ביקרא שפיר עבדי ליה יקרא טובא יתיב וקא משתבח כמה נאה אכסניא זו א"ל (אחד מתלמידיו) רבי עיניה טרוטות א"ל רשע בכך אתה עוסק אפיק ארבע מאה שפורי ושמתיה כל יומא אתא לקמיה ולא קבליה
When he came back to Eretz Yisrael, Rabbi Yehoshua arrived at a certain inn.The innkeeper stood before him, honoring him considerably, and overall they accorded him great honor. Rabbi Yehoshua ben Peraḥya then sat and was praising them by saying: How beautiful is this inn. Yeshu the Notsri ,one of his students, said to him: My teacher, but the eyes of the innkeeper's wife are narrow [terutot]. Rabbi Yehoshua ben Peraḥya said to him: Wicked one, is this what you are engaged in, gazing at women? He brought out four hundred shofarot and excommunicated him. Every day Yeshu would come before him, but he would not accept his wish to return.
יומא חד הוה קרי קרית שמע אתא לקמיה הוה בדעתיה לקבוליה אחוי ליה בידיה סבר מדחא דחי ליה אזל זקף לבינתא פלחא אמר ליה חזור בך א"ל כך מקובלני ממך כל החוטא ומחטיא את הרבים אין מספיקין בידו לעשות תשובה דאמר מר [יש"ו] כישף והסית והדיח והחטיא את ישראל
One day, Rabbi Yehoshua ben Peraḥya was reciting Shema when Yeshu came before him. He intended to accept him on this occasion, so he signaled to him with his hand to wait. Yeshu thought he was rejecting him entirely. He therefore went and stood up a brick and worshipped it as an idol. Rabbi Yehoshua ben Peraḥya said to him: Return from your sins. Yeshu said to him: This is the tradition that I received from you: Anyone who sins and causes the masses to sin is not given the opportunity to repent. The Gemara explains how he caused the masses to sin: For the Master said: Yeshu performed sorcery, and he incited the masses, and subverted the masses, and caused the Jewish people to sin.
A medieval legend called Toldoth Yeshu took from this Talmud passage, and another Talmud passage from 200 years later, and various other pieces of information were taken from the gospels, and from Jewish folk tradition. The product was the legend that has come to have a life of its own. But it is a Frankenstein, and is not authoritative according to Jewish tradition. I intend to prove it to be a falsehood and fabrication. The two Yeshus of the Talmud are NOT Yehoshua the Messiah, as they are from different eras. And the Yeshu of the Toldoth is a complete lie, written much later, based on scraps of truth sewn into a far-fetched narrative.
The second Talmud passage Todoth Yeshu steals from is a tradition dating from the time of Rabbi Akiva, more than a century after the time Yehoshua the Messiah is said to have come. It concerns a Yeshu called Ben Staada and Ben Pandera, and his mother the hairdresser Miriam, the husband of one Paphos Ben Yehudah.
A Jewish hairdresser named Miriam, called Setatdah ("this one strayed"), who was supposedly espoused to one Paphos Ben Yehudah, was said to have been impregnated by a man named Pandera. She bears a child, who comes to be known as Ben Pandera and also as Ben Setatdah or Stada. This individual is said to have "taken magic spells out of Egypt in a scratch on his flesh. " We learn also that this individual was put to death specifically for leading others to idolatry, having been caught in the act by planted court informants, and that he was from the city of Lud. His mother's husband Pappos b. Yehudah was a contemporary of R. Akiva, meaning Ben Stada's life was in the 2nd C. (source: Talmud Tractate Shabbat 104b)
At the beginning of the Talmudic period, these two independent sources are not yet conflated. There's Yeshu the Notsri on one hand, and then 200 years later, there Ben Pandera. Somewhere roughly between them you have the real Jesus. And that's where things get interesting. It would seem that, in the interests of weaving together a compelling counter-missionary tale, the various oral traditions of the talmud were all too tempting to the medieval Jewish scribes (500 - 1000 AD), as colorful threads of legend, especially when the names vaguely resembled those found in the canonical gospels. They mixed one tradition with another tradition, and added a bit of hearsay, legend, and scattered gospel elements. Out popped the most hated polemics of all time (one that I might add is not canonical as far as Judaism is concerned).
אגדה מימי הביניים בשם "תולדות יש''ו" לקחה מתוך קטע התלמוד הזה, ועוד קטע של תלמוד מ -200 שנה מאוחר יותר, וחלקים נוספים של מידע נלקחו מתוך הבשורות, וממסורת עממית יהודית. המוצר היה האגדה שהגיעה לחיים משלה. אבל זה פרנקנשטיין, והוא אינו סמכותי על פי המסורת היהודית. אני מתכוון להוכיח שזה שקר ויצירתיות. שני יש''ו התלמוד אינם יהושע המשיח, כפי שהם מתקופות שונות. וישוע של תולדות הוא שקר שלם, שנכתב הרבה יותר מאוחר, מבוסס על שריטות של אמת תפור לתוך נרטיב רחוק. הקטע השני בתלמוד "תולדות יש''ו" גונב מתוך מסורת מימי ר 'עקיבא, יותר ממאה שנה אחרי שהגיע יהושע המשיח. מדובר בישוע שנקרא בן סטאדה ובן פנדרה, ואמו הספרית מרים, בעלה של פאפוס בן יהודה.
מספרת יהודייה בשם מרים, שנקראה סטתדאח ("זה תועה"), שאומנה כביכול לפאפוס בן יהודה, סיפרה כי הוא היה ספוג על ידי אדם בשם פנדרה. היא נושאת ילד, שבא להיקרא בן פנדרה וגם בן סטטדה או סטאדה. אדם זה הוא אמר "יש לקחת כישופים קסם ממצרים שריטה על הבשר שלו. "אנו למדים גם כי אדם זה היה למוות במיוחד עבור מובילים אחרים לעבודה זרה, לאחר שנתפסו על ידי מעשה ידי המודיע נשתלו המשפט, וכי הוא מן העיר לוד. בעלה של אמו פאפוס ב. יהודה היה בן זמננו של ר 'עקיבא, ופירוש הדבר שחייו של בן סטאדה היו בשלישי.
בתחילת התקופה התלמודית, שני מקורות עצמאיים אלה עדיין אינם מעורבים. יש ישו נוטסרי מצד אחד, ולאחר מכן 200 שנה מאוחר יותר, שם בן פנדרה. איפשהו ביניהן יש לך את ישו האמיתי. וכאן הדברים נהיה מעניינים. נראה כי על מנת לטפח יחד סיפור משכנע אנטי-מיסיונרי, המסורות האוראליות השונות של התלמוד היו מפתות מדי לסופרים היהודים מימי הביניים (500 - 1000 לספירה), כחוטים צבעוניים של אגדה, במיוחד כאשר השמות הדומים לאלו שנמצאו בבשורות הקנוניות. הם התערבבו במסורת אחת עם מסורת אחרת, והוסיפו קצת שמועות, אגדות ופריטי גוספל מפוזרים. הוציאו את הפולמוס השנוא ביותר בכל הזמנים (אחד שאני יכול להוסיף אינו קנוני מבחינת היהדות).
שבת צד.ב
THE REALM MESSIAH- המשיח האמיתי
"At the time Yehoshua said to his disciples, think not that I have come to overturn Torah, and not to complete it. In truth I say to ye, that heaven and earth bear witness: neither one letter nor one vowel mark will fail from the Torah or the Prophets, as it will be all be established." - Matt. 5:17-18
בעת היא אמר יהושע לתלמידיו אל תחשבו שבאתי להפר תורה אלא להשלים
באמת אני אומר לכם כי עד שמים וארץ אות אחת ונקודה אחת לא תבטל מהתורה או מהנביאים שהכל יתקיים